Is it a barn or is it a barn home? The choice is yours with this versatile 24×36 timber frame barn home plan! Three bays on two levels create a total of 1,728 square feet to shape into whatever suits your needs. Add windows and doors to correspond to the rooms you create, or you could even add dormers to bring in extra light to the second floor space. The second level ceiling soars to almost fifteen feet above the floor, creating a dramatic, spacious interior. Or if you choose, you can floor in all or part of the area above the upper bent girth for a storage attic. The first level could become more living space, or a workshop or garage – or a bit of both! If you have a sloping lot, you could even modify the plans to create a walkout basement with the first level.
We have designed the frame so you can have a 4x walls mounted to the exterior of the frame and keep your foundation at a true 24×36 making the construction process easier and more efficient.
The plan set includes 4 pages of 2D and 3D drawings and 33 pages of piece drawings, showing every cut to be made on every timber. There is also a timber list to make it easy to acquire your lumber, and a production list itemizing each member of the frame, and tying each item into the piece drawings. The drawings are formatted in PDf so you download them instantly once you make your purchase. And they are sized to print on 24'x36" paper, so you can print them at a local office supply store and see everything clearly.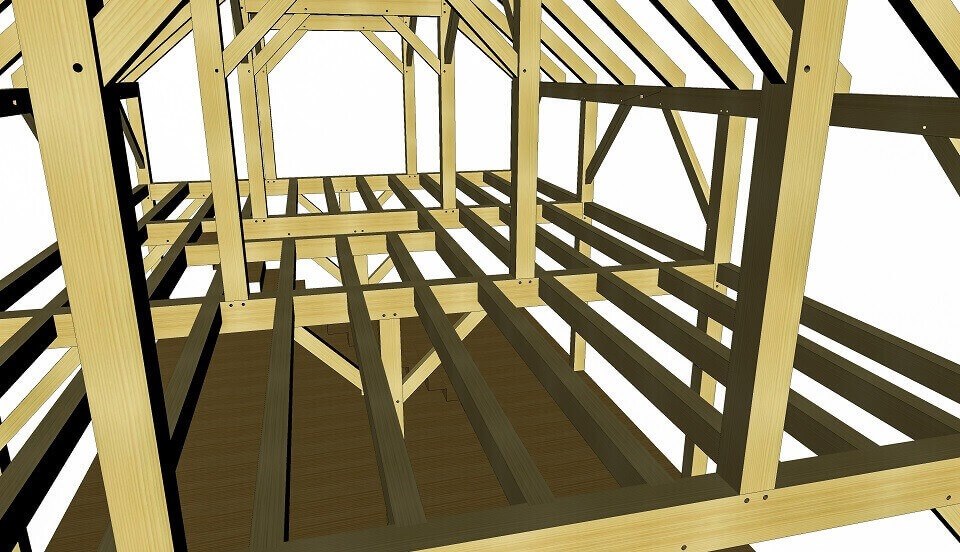 Important Information:
Timber Frame HQ provides plans for construction purposes but does not oversee the construction. The plan purchaser is responsible for assuring the plan meets local codes and regulations. It is the responsibility of the plan purchaser to obtain any and all structural analysis, engineering, and specifications that may be required in the municipality in which it is to be built. Plan purchaser is to verify all lot conditions and measurements before construction. Purchaser is responsible for additional expenses incurred in order to meet local code and engineering requirements.
Customer understands that the following conditions in your specific area may require additional engineering:
Wind / hurricane / tornado
Seismic / earthquake
Heavy snow
Flood potential
Soil instability
Timber Frame Engineering
Customer understands that HVAC, Plumbing & Electrical will not be included in all plans.Purchaser agrees that the use of the plan is for the construction of one house