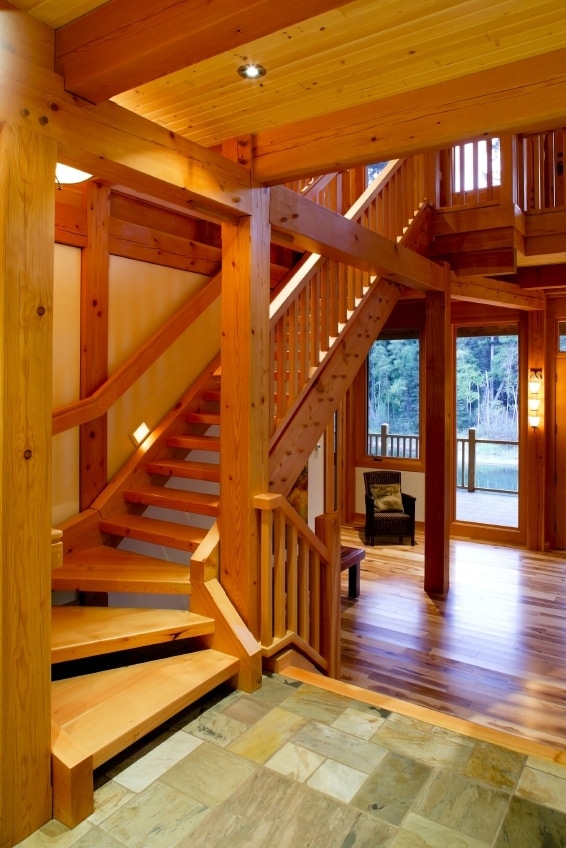 Since 1970, the average size of a new home has nearly doubled, from an average of 1,400 square feet to 2,700 square feet, as the number of people in a household continues to drop. While many people may think that "bigger is better," building a small  timber frame home has definite advantages:
1. Small Timber Frame Home: Lower Utility Bills
Although newer homes are energy-efficient, the cost to heat and cool today's large homes can take a huge bite out of your budget. Aside from financial considerations, large houses are also using up more than their fair share of natural resources.
2. Fewer Repair and Maintenance Costs
A small timber frame home has fewer items to replace, and what does need replacing, such as a roof, flooring, furnaces and air-conditioners, costs less to replace in a small home. Additionally, the amenities that sometimes come with larger homes, like whirlpool baths, will require extra maintenance and repair.
3. Less Clutter
People have a tendency to keep accumulating things until they fill up the space they have, no matter how large. A well-planned smaller home will have practical, multi-purpose spaces and will discourage large rooms devoted to one activity. Such rooms are an invitation to collect random paraphernalia, a good example of this would be a sewing or embroidery room. A smaller home forces you to buy more prudently, which also saves money.
4. No More Downsizing
Many people discover that they can finally afford a larger home just as their children are leaving the nest. Later, they must downsize when they can no longer care for the property or it becomes dangerous for them to get around. A small home built with handicap facilities or an easily convertible floor plan will allow you to stay in your home longer,
delaying the need for assisted living or a nursing home. Even younger families can benefit from this strategy.
5. Overall Financial Security
If you have a fabulous house, but have nothing left after paying the mortgage and property taxes to enjoy life or afford groceries, your quality of life is not what it appears. Even if you can afford a large home, paying extra on a smaller loan will get you to home ownership that much faster, freeing up money so you can enjoy life in later years.
The benefits of building a smaller timber frame home make it an appealing choice for homebuyers, and one that more folks should consider.