Glue-laminated timber (glulam) is a structural engineered wood element commonly used for beams and columns in residential and commercial applications. Glulam is a highly visible form of mass timber in contemporary projects, with long spans framing signature designs that have been left exposed to take advantage of wood's natural aesthetic.
The Strength of Glue-laminated timber
Glulam is stronger than steel at comparable weights, and it is stronger and stiffer than dimensional lumber, according to APA – The Engineered Wood Association. That makes the material a cost-effective choice for long, structural spans and tall columns with minimal need for additional support.
This engineered wood product can be used in interior and exterior applications. Several manufacturers sell glue-laminated timber products with adhesives that can withstand moisture and wear from use outdoors.
How Glulam Can Be Used
To form a glulam component, wood laminations (dimension lumber) are positioned according to their stress-rated performance characteristics. In most cases, the strongest laminations sandwich the beam in order to absorb stress proportionally and ensure the member's longevity, APA notes. The laminations are jointed end to end, allowing for long spans, and are bonded with a durable, moisture-resistant adhesive. The laminations' grains run parallel with the member's length to improve its strength.
These structural members come in standard and custom sizes. Depths range from 6 inches to 72 inches, and widths range from 2.5 inches to 10.75 inches, according to APA. Components are cut to length when ordered and can surpass 100 feet. Commercial projects often require longer spans and accommodate bigger loads than residential projects, meaning custom widths and depths are often required. In addition to straight spans, glulam can also be used for curved and pitched applications.
Four appearance grades—framing, industrial, architectural and premium—suit glulam for use in a range of architectural applications. Those include commercial buildings such as churches, higher education facilities and offices, as well as homes, where they offer a combination of structural and aesthetic attributes.
This product can work behind the scenes, too, as trusses, purlins, floor beams, cantilevers and other necessary structural elements, according to APA. Glulam has also found use as floor and roof decking planks. Elsewhere in the built environment, glulam can be found as a key structural element in bridges, poles and marina docks.
Glue-laminated timber Used in Timber Framing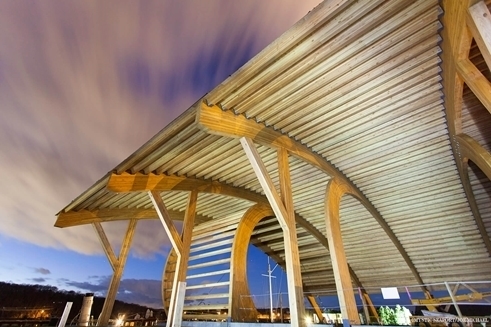 A glulam system in a timber frame structure can give you increased flexibility. Trusses can span longer distances with fewer interior posts, providing the opportunity to create wide-open spaces. Glue-laminated timber is perfect for arched bottom chord trusses or curved timbers in other areas of the structure. With glulam there is very little checking and shrinking as compared with traditional solid timbers, creating a cleaner and less rustic look. A glulam timber frame creates a sleeker, more modern look than traditional timbers.
---
Parts of this article are courtesy of Think Wood – an organization devoted to promoting the economic, environmental and societal benefits of using softwood lumber in commercial, community and non-residential building applications.