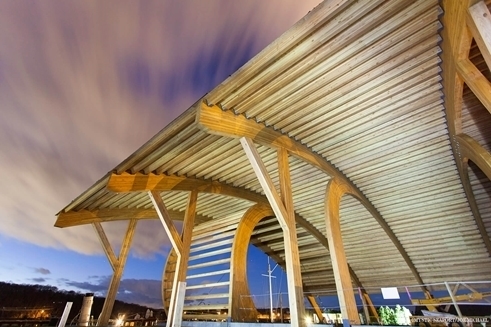 Jim DeStefano, P.E., AIA, F.SEI is the President of the structural engineering and architecture firm of DeStefano & Chamberlain, Inc. that he founded in 1981.
The firm is located in Fairfield, Connecticut, although their projects can be found across the country – the firm is licensed to practice in twenty seven states. They specialize in building structures, foundation engineering, structural investigation, coastal structures, as well as historic preservation and new timber frame structures.
Jim began his career as a structural engineer in the 1970s. He "loved working on old 18th century timber frame structures that had been crafted by the old masters." He studied the old techniques of building with timber, and experimented with incorporating the traditional joineries into more modern structures. And then, as Jim says, "In the 1980s, the timber frame world came of age and matured from a hobby craft for aging hippies to mainstream building construction. All of a sudden there was no shortage of skilled timber framers who enjoyed building the kinds of structures that I liked to design."
Jim tells us, "At DeStefano & Chamberlain, we pride ourselves on our ability to design the kinds of structures that other engineers and architects do not possess the skills for. That includes not just timber framing and SIP engineering, but also things like historic preservation, masonry restoration, foundation systems, and waterfront structures."   Jim continues, " I believe that at DeStefano & Chamberlain, we do what we do better than anybody else. We have a mastery of engineering and architectural technology that can't be found anywhere else."
Though DeStefano & Chamberlain designs and engineers many other types of structures, Jim has a special appreciation for timber frame. He tells us, "I have always found it fun to design cool looking structures that become the main attraction of the architecture. No structural system beats timber for architectural expression."  Jim derives a great deal of satisfaction from designing timber frame structures. As he says, "when we design in timber, we get to be creative and artistic."
Along with leading his firm to success, Jim has made significant contributions to the profession of timber frame engineering. He was one of the visionary founders and the original chairman of the Timber Frame Engineering Council (TFEC). Through the TFEC, he has helped to advance the technology of timber engineering.
As a Director and engineering committee chairman of the Structural Insulated Panel Association (SIPA), Jim was instrumental in guiding the SIP industry to sponsor research and develop engineering methods for designing with SIPs.
Jim feels strongly about the value that an engineer provides to a timber frame project.  As he says, "We too often become involved in a timber frame project much too late in the process. An architect or engineer will often delegate the timber frame engineering to the contractor. By the time we are engaged, construction has already begun and we do not have the freedom to improve on an inherently inefficient or impractical timber design. Projects always go smoother when we are engaged as the engineer of record from the outset." Jim continues, "the biggest hurdle to timber frame engineering is the notion held by some timber framers that they need to be their own engineer rather than putting their trust in a trained professional."
Jim has also recently completed the writing of a book entitled Antique New England Homes and Barns. Not surprisingly, it includes a chapter on timber framing.  The book should be available in  your local bookstore by this coming fall.
Would you like to learn more about Jim DeStefano and DeStefano & Chamberlain?
DeStefano & Chamberlain, Inc.
50 Thorpe Street
Fairfield, CT 06824
203-254-7131
Facebook: DeStefano & Chamberlain, Inc.