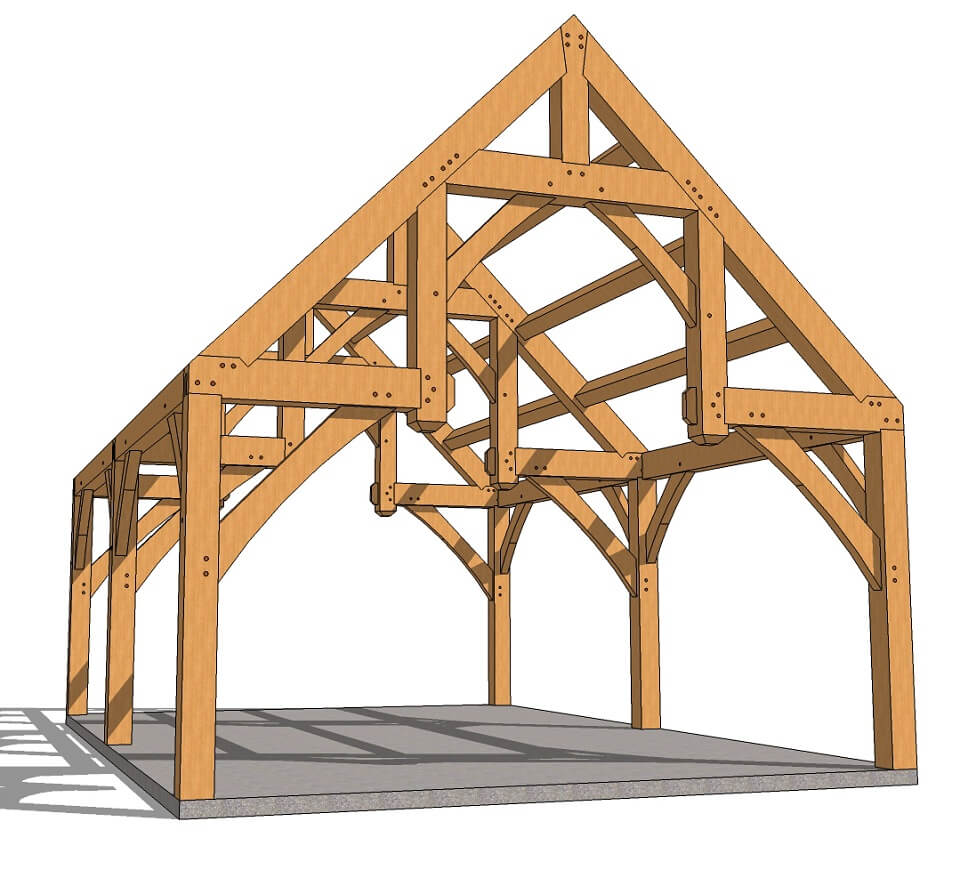 Take a look at this gorgeous 16×24 hammer beam pavilion! Two bays create a beautiful repetition in the sculptural trusses of this structure. Though a bit more complex to cut and raise than a frame with common trusses, the result is a thing of beauty. You will want to create this frame for a special space such as a great room addition to your home, or a free standing carport. With a steep 12 in 12 pitch to the roof, the ridge soars to 16 feet tall!
Enclose this frame as you wish – with 385 square feet, this timber frame would make a great camping cabin, generous picnic pavilion or even a cozy and dramatic backyard guest house. The possibilities are endless of the ways to enjoy this artistic frame!
The drawings consist of 35 pages of renderings, including X-ray drawings so that you can fully understand the joinery. There are timber and fastener schedules to make your materials purchasing easy. We also include plan, elevation and sectional drawings, along with all the piece and joinery details you will need to build this timber frame. The plan set is formatted in instantly-downloadable PDF for 8 ½" x 11' paper, easily printed from home.

Important Information:
Timber Frame HQ provides plans for construction purposes but does not oversee the construction. The plan purchaser is responsible for assuring the plan meets local codes and regulations. It is the responsibility of the plan purchaser to obtain any and all structural analysis, engineering and specifications that may be required in the municipality in which it is to be built. Plan purchaser is to verify all lot conditions and measurements before construction. Purchaser is responsible for additional expenses incurred in order to meet local code and engineering requirements.
Customer understands that the following conditions in your specific area may require additional engineering:
Wind / hurricane / tornado
Seismic / earthquake
Heavy snow
Flood potential
Soil instability
Timber Frame Engineering
Customer understands that HVAC, Plumbing & Electrical will not be included in all plans.
Purchaser agrees that the use of the plan is for the construction of one house or frame only*, and that the plan or any part of it will not be reproduced by any means without the written consent of the copyright owner.